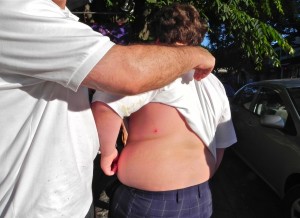 The 11-year-old son a New Hope restaurant owner alleges he was shot in the back by a counter clerk at Guy Stuff in the Four Seasons Mall, 32 S. Main St., at approximately 6:30 p.m. as he attempted to depart the store after being asked to leave.
According to the alleged victim, the purported assailant then stated, "Well, I told you to leave" in response to his scream of pain. The gun appeared to be a spring piston type BB or pellet pistol said the youngster, who also said he was shot at a distance of five feet.
New Hope Police questioned the boy extensively after he fled to his father's restaurant on South Main Street, then left, saying they were going to pay the store in question a visit. They did not return during the time this reporter was on scene and no arrest was apparent. Police were not able to be reached for comment as of press time.
A Guy Stuff counter person confronted with the allegation refused to comment. Another sharpened a hatchet while making eye contact with this reporter. The store manager, who claimed not to be present during the incident, said of the wounded child, "He is known to be a very big liar." Store owner Jason Glazier was not immediately available for comment.